Extreme leadership. Elite Navy SEALs tactics in management.
Ar-Ramadi, a lost city, hell on earth. A special unit of SEALs commandos led by Jocko Willinka and Leff Babin was on a mission to secure one of the most dangerous areas of the world. They have done the impossible, and their history shows that leadership is the most important factor in a team's success or failure.
Using their experience and knowledge, Jocko Willink and Leif Babin trained successive generations of commanders. Later, they set up an advisory firm that teaches managers of all levels and project group managers.
Extreme leadership shows you how to use the way you think in any team, family, or organization, and the rules that enable SEALs to carry out the toughest missions. It revolutionizes business management and calls on leaders to achieve the ultimate goal of leading and winning.
Each principle of extreme leadership is illustrated in the book by the account of the battlefield in Ar-Ramadi, a struggle that was filled with superhuman heroism, tragic losses and blood-splattered victories, as well as an excellent and above all authentic business example.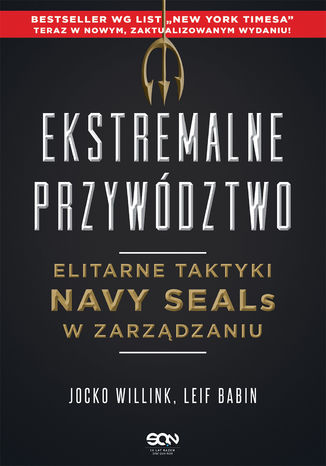 —
This book is a great read for every manager and leader. Regardless of the reader's age and professional experience, it will be a fascinating journey into the world of extreme experiences shared by two charismatic SEAL commanders. It's astonishing how they transfer the practices, culture and principles of one of the best special units to the business world, referring to specific managerial cases. In today's business world saturated with cult units, this book is a great guide for managers and leaders on how to create an extraordinary team, harnessing the potential of all who make it.
Jozef Kącki, Leaders Island
—
No book will teach a leader how to command in any situation. But this book provides a good reference point, a collection of clues that can help in the event of difficult leadership dilemmas. While the details of each situation may vary, the rules remain the same and can be applied, directly or not, to deal with a particular leadership challenge.
—
Fragments
Total responsibility for failure is difficult to accept, and taking the blame on yourself when things go wrong requires tremendant humility and courage. But it is essential to develop and learn as a leader and to improve team performance.
—
Leaders must always act with the awareness of being part of something bigger than them and their private aspirations. They must convince all branch members, including individual operators, to do so. Much more important than training or equipment is a strong belief in the mission, crucial for any team or organization that wants to win and succeed.
—
If a squad fails, everyone loses, even if a team member or team member has done their job well. Pointing fingers and blaming others creates further misunderstandings between teams and their members. They must find a way to cooperate, improve communication and support each other. They must always be focused on how best to accomplish the mission.
—
Plans and orders must be clear, simple and concise. Everyone participating in the mission must know and understand their role and what to do in the event of an unforeseen situation. No matter how confident you feel as a leader after presenting your people with information, orders, plan, tactics or strategy, if the branch has not assimilated the knowledge provided, you have not sufficiently simplified it – you have failed. You need to check in to make sure everyone on the team understands it.
—
The best teams are constantly analyzing their tactics and evaluating efficiency to be able to change methods and use lessons in future missions. Business teams often say there's no time for such an analysis – but you have to find it.
—
The leader cannot be paralyzed by fear – this results in a lack of reaction. It is important for the commander to act decisively in conditions of uncertainty – to make the best possible decision based on the information at his or her knowledge.